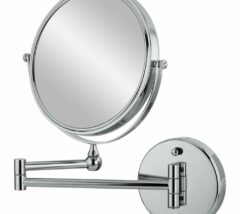 39 Years Old? No Way!
Aptations – well, actually the predecessor company Kimball & Young – began life in 1983.  That makes us 39 years old, which is the age that my mother ALWAYS said she was when asked.  Apparently, 39 was the age where sophisticated maturity met perpetual youth…..and now we are there!
In the Beginning….
Kris Kimball and Curtis Young fleshed out a partnership agreement and began to sell cosmetic accessories to anyone who needed cosmetic accessories.  In short order, they decided to focus their efforts on magnified makeup mirrors.  The first catalogs were simple 1 page fliers with hand held mirrors and compacts.
Since the beginning, this has been both a family business and a global business.  The mirrors were originally sources in Korea and then production was moved to China.  When the product arrived in the US, it went into Curtis' garage, where his wonderful wife would pack and ship orders.
The Company Grew….
Like all great companies that begin in a garage, Kimball & Young grew out of the garage and into offices and warehouse space in Pleasanton, CA.  That space became too small and the company moved to larger offices and warehouse space in Livermore, CA.  Eventually, it became necessary to move the product to a centrally located warehouse in Kansas City, MO and the offices moved back to within 5 miles of the original garage, only this stop put them in Dublin CA.
The Founders Moved On….
After harnessing the power of the internet for Kimball & Young, Kris Kimball retired in 2001.  He sold his half of the company to Christy Winter.  In 2008, Curtis followed, having secured the company's place in the Decorative Plumbing & Hardware and Hospitality channels.  Christy took over as Queen of All I See (Q.O.A.I.S.)
Fast Forward to 2010….
So many things have happened in the past couple of decades.
–The First Impressions line of compacts and personal mirrors was introduced, focusing on sales to large publicly traded retailers.
–The first LED magnified makeup mirrors were introduced in 2007 and then we all went thru the "LED Revolution" when the technology was changing so rapidly it was impossible to keep up with it.
–But most importantly…..Kimball & Young morphed into Aptations, basically coming of age like so many do at age 27.
Aptations Continues the Tradition of Offering Beautiful Mirrors…..
–The Sergeña collection of elegant LED lighted vanity mirrors was developed and expanded.
–A partnership was formed with ClearMirror to distribute their heated and lighted mirrors that are installed directly in the shower.
–Aptations has been able to make use of the versatility of LED lighting and now offers lighted magnified makeup mirrors with warm and cool white light.
To Infinity and Beyond….
As we celebrate our wonderful 39 years of sophisticated maturity and perpetual youth, we look forward.  It will be interesting to see…..
–How the home lighting dealers will embrace this niche but very lucrative product line….  We'll be at Lightovation January 2023.
–Now that Matte Black and Brushed Brass finishes are making an impact on the design world, what's next?
–What new design trends will we see in the months and years ahead??
Regardless of the direction the future takes, you have a traveling companion with both sophisticated maturity and perpetual youth.  We hope you enjoy the ride!
–Christy Winter, Q.O.A.I.S.