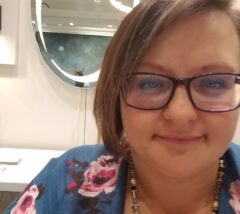 Julie Logan – Hospitality Project Guru and Julie of All Trades (JOAT)
Julie, who currently works as our hospitality project guru, has been with Aptations since 2011.  To give some perspective, Barak Obama was President, the Space Shuttle Endeavour was launched for the last time and we met and fell in love with Steve Rogers in Captain America: The First Avenger.  A lot has happened since then.  Since 2011, Julie has worked at Aptations in data entry, customer service, and hospitality sales with frequent forays into product development, marketing and sales management.  That's why we think of her as our Julie of All Trades (JOAT)
Julie's favorite mirrors are the Lighted Rectangular Minimalist Magnifying Mirrors and La Bonita Vanity Mirror with 3X Magnifier inset  and she loves helping hotels, thru her work as the Aptations hospitality project guru, improve the guest experience by adding these, and other great styles, to their hotel rooms.
Julie and her husband live in Wisconsin, with their 2 kids and 2 cats, surrounded by a large extended family.  She is an avid science fiction fan-girl who can quote Dr. Who and wishes for everyone….
May the Force Be With You.  Always.