Contemporary Rectangular LED Lighted Magnifying Makeup Mirror with Switchable Light Color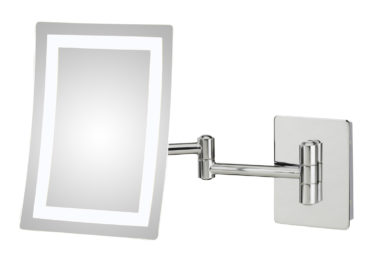 Enlarge +
Features
The Contemporary Rectangular Switchable Magnifying Makeup Mirror  is a great accessory for any bathroom.  The frameless mirror gives a crisp, minimalist, contemporary look.  The 3x magnifying mirror is 6.5″ wide by 8.75″ high and comes to you on a 12.3″ extension arm.  The bright light is either cool 5,500 Kelvin or warm 3,500 Kelvin at the flick of the power switch.  Since this mirror provides both cool white light, much like daylight on a sunny day, AND warm white light, it is able to help prepare you to better face whatever your day holds.
This mirror is switchable so you get both light colors in the same mirror.  The base has a toggle switch with 3 "places."  Push the toggle switch up and you get warm white light.  Put it in the middle and the light turns off.  Push the toggle switch down and you get cool white light.  It couldn't be more simple!
It is available in 3 finishes.
MSRP $550.00
Details
Switchable Light; Bright warm white light AND cool white light
3,500 AND 5,500 Kelvin
8.6″ High
6.3″ Wide
12.3″ Extension
Hardwired with an external driver that fits into a single gang box
6.6″ H x 4.25″ W Viewing Area
3X Magnification
Contemporary Rectangular Switchable Magnifying Makeup Mirror:
Chrome – 949-2-43HW
Brushed Nickel – 949-2-73HW
Polished Nickel – 949-2-83HW
Similar Products
If your bathroom has enough light or if your budget doesn't have enough room for a lighted makeup mirror, consider these options. Minimalist Rectangular Freestanding Mirror and also Minimalist Rectangular Wall Mirror
Be sure to look at the Sergeña Collection if you are looking for a fabulous lighted electric mirror for your vanity as well as a magnified makeup mirror.
It is our vision to provide world class products, innovative choices and a distinctive experience.  It is our mission to serve our trading partners and the ultimate consumer through the design and delivery of high value products and bold leadership.  We deliver consistently, reliably, and on time.
Finishes
Chrome

Brushed Nickel

Polished Nickel
Product Specs - Series Contemporary Rectangular Switchable Magnifying Makeup Mirror
| | |
| --- | --- |
| Style: | Chrome - 949-2-43HW, Brushed Nickel - 949-2-73HW, Polished Nickel - 949-2-83HW |
| Brand: | Kimball & Young |
| Descripton: | Contemporary Rectangular LED Lighted Magnifying Makeup Mirror with Switchable Light Color |
| Frame Dimension: | 8.6" H x 6.3" W x 1.5" D |
| Base Diameter: | 4.64" H x 3.46" W x 1" D |
| Magnification: | 3x |
| Retracted Width Wall Space: | 6.3" |
| Retracted Height Wall Space: | 8.6" |
| Extended Distance From Wall: | 12.3" |
| Retracted Distance From Wall: | 4.25" |
Product Warranty Information
Aptations, Inc., mirrors are warranted to be free of defects in material and workmanship for three (3) years. This warranty does not cover damages resulting from accident after purchase, misuse, abuse, lack of reasonable care, loss of parts or installation in showers. The life of the finish will be best cared for, especially in areas of high heat and moisture, by keeping all surfaces clean and dry. LED lighting is not replaceable and is included in warranty coverage for a period of 3 years. The customer should be sure the problem is a manufacturer's defect and covered by the warranty before initiating a warranty claim. To initiate a warranty claim, contact Aptations Customer Service for a Return Authorization (RA) number at Returns@Aptations.com.
See below for details about our Warranty Policy. To consider before submitting a return:

Any alteration to merchandise automatically voids your Aptations Warranty Policy.
If your mirror was damaged during shipping or if the wrong mirror was sent to you in error, review the steps to take at
Shipping Damage/Shipping Error