Enhanced Lens for NeoModern LED Lighted Mirrors, both freestanding and wall mounted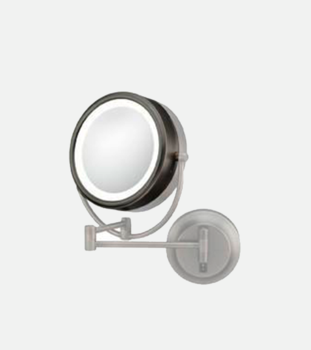 Enlarge +
MSRP $90.00
Features
This enhanced 7X replacement lens and frame for Neomodern Mirrors – 745 series and 945 series models – adds magnification while maintaining the beautiful styling of the NeoModern series of magnifying makeup mirrors.  Available in five finishes.
Details
Size: 9″ diameter
7X Lens for Neomodern Mirrors Models:
Brushed Brass – 745-945137L
Matte Black – 745-945157L
Chrome – 745-94547L
Brushed Nickel – 745-94577L
Polished Nickel – 745-94587L
This lens is for use with the NeoModern Magnified Makeup Mirror with Switchable Light Color and the NeoModern Freestanding Magnified Mirror  It replaces the 5X lens that those mirrors come with.
So often, homeowners will come to us wanting to replace the makeup mirror that they purchased at a big box retailer.  They remember that the packaging on that mirror said that the mirror was 10X or 15X or even stronger.  That packaging is probably not accurate.  The higher the magnification of a mirror, the closer the user has to be to see their reflection without distortion.  If the lens really was 10X, or higher magnification, the user would have to have their nose less than an inch away from the lens to see themselves without distortion.  If the mirror is that close, the user probably does not have the room needed to do any grooming.  Aptations mirrors are tools as well as room jewelry.  We help you look your best so you can face the day with confidence.
Finishes
Chrome

Brushed Nickel

Polished Nickel

Matte Black

Brushed Brass
Product Specs - Series Enhanced 7X Lens for NeoModern Mirrors
| | |
| --- | --- |
| Style: | Brushed Brass - 745-945137L, Matte Black - 745-945157L, Chrome - 745-94547L, Brushed Nickel - 745-94577L, Polished Nickel - 745-94587L |
| Brand: | Kimball & Young |
| Descripton: | Enhanced Lens for NeoModern LED Lighted Mirrors, both freestanding and wall mounted |
| Frame Dimension: | 9" |
| Mirror Weight: | 1.59 pounds |
| Magnification: | 7X |
| Piece per case: | 6 |
Product Warranty Information
Aptations, Inc., mirrors are warranted to be free of defects in material and workmanship for three (3) years. This warranty does not cover damages resulting from accident after purchase, misuse, abuse, lack of reasonable care, loss of parts or installation in showers. The life of the finish will be best cared for, especially in areas of high heat and moisture, by keeping all surfaces clean and dry. LED lighting is not replaceable and is included in warranty coverage for a period of 3 years. The customer should be sure the problem is a manufacturer's defect and covered by the warranty before initiating a warranty claim. To initiate a warranty claim, contact Aptations Customer Service for a Return Authorization (RA) number at Returns@Aptations.com.
See below for details about our Warranty Policy. To consider before submitting a return:

Any alteration to merchandise automatically voids your Aptations Warranty Policy.
If your mirror was damaged during shipping or if the wrong mirror was sent to you in error, review the steps to take at
Shipping Damage/Shipping Error