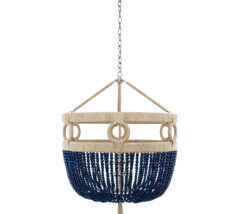 Trends From the Lighting Show
I recently had the chance to see some of the new trends from the lighting show after a quick trip to Dallas to Lightovation, the residential lighting trade show and market.  Since we've all had some time to be more creative during the pandemic, I was expecting to see some really innovative new things.  I was not disappointed!!  What is happening in lighting, you ask??  Well, let's see….
Natural Materials
After years of very contemporary designs, it was really refreshing to see so many natural materials being incorporated.  There were a lot of lamp shades made from wood, and chandeliers made from wooden beads.  There was also a wide selection of light fixtures with rattan or even burlap-looking shades.  While the wood and rattan fixtures added a distinct bohemian flair to the show, it didn't end there.  There were also some really stunning fixtures made with natural stone and marble.  I even saw a lamp with a shade made from feathers!
The lighting manufacturers, seem to be adding these natural materials into their mix, instead of replacing products with them, because there is still a nice selection of…..
Mid-Century Modern and Industrial
These styles are my personal favorites!  And even though they've been around for a while, there were plenty of new products to get them onto the list of trends from the lighting show.  I love the sleek lines that come with mid-century modern fixtures and I love the look and feel of metal that has been forged into unique shapes and then finished in a deep black or grey finish.  I think these fixtures are a perfect accessory to pretty much any décor.  They don't just light up the room, but they make a statement about the people who live in that room.
The Classics are Still Classic
There's a reason why you can't go wrong with the classics.  The polished chrome and polished nickel finishes on the contemporary and transitional fixtures look as beautiful today as they ever have.  They sparkle and shine like a perfectly cut diamond and they, too, make a statement about the rooms that they light up.
At Aptations…..
….we are also keeping up with these trends.  The  Matte Black and Brushed Brass finish of our NeoModern mirrors helps you look fabulous as they put the perfect finishing touch on your new bathroom or in-home spa.  And the mirrors in our Sergeña Collection put a fresh spin on the idea of Classic.
If done properly, lighting, like the perfect mirror, doesn't just make your room look great.  It helps you look great too!
–Christy Winter, Q.O.A.I.S., Sales Manager and Trend Spotter