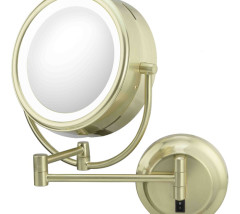 Top Trends Impacting the Market
With vaccines rolling out and states opening up, I was able to take advantage and get to southern California and see what trends are impacting the market.  It was a great couple of days.  There is nothing like talking to your customers and trading partners to find out what's happening in the market.  Here's a quick look at what I learned….
Black and Brass are the new…..well, Black.
Matte Black and various Brass finishes have been in the market for a few years now but both finishes are really getting some traction.  As more and more of the fixture companies are offering these finishes, there's huge demand on the hardware and accessory companies to keep up.  We, at Aptations, are doing our part, by offering our best selling, most classic, mirrors in these iconic finishes.  Classic Mirrors in Matte Black, Brushed Brass and many other finishes   Unlike other fashion finishes that we've seen….and will continue to see….both of these finishes are likely to be around for many years.  I personally think that's because they are both so classic.  And you can never go wrong with the classics!
Duo is Better than One – An Important Trend Impacting the Market
There are a fascinating number of products out there incorporating the word "And" in their designs.  You can see this everywhere, including the proverbial kitchen sink as suppliers are offering reversible or interchangeable apron front sinks.  Circles AND squares are showing up in many lighting products.  We're pretty excited that we, at Aptations, are offering a wide selection of our Kimball & Young lighted magnifying makeup mirrors with switchable light.
With switchable light, you can have both warm white light AND bright cool white light in the same mirror.  If you are getting ready for work or something inside, use the warm white light.  (3,500 Kelvin) and if you're getting ready for something that will be outside, use the 5,500 Kelvin that mimics daylight.  With our lighted magnifying makeup mirrors you get both light colors, at the same great price.
The supply chain is broken.
From sourcing internationally to delivering products to our customers – every step in the supply chain is taking longer than it did a few years ago.  We, at Aptations, blame the pandemic!  There are really only a couple of solutions to this problem until it works itself out…..
–Be patient. This is not my strong suit nor that of many of us.
–Increase inventory levels. In this environment, inventory is the insurance a company can buy to make sure they have what they need to sell.  We are working to increase our inventory levels and we see dealers stocking our products and taking advantage of some volume discounts.  If you would like to buy some of that "insurance" reach out to your rep or give us a call.
Now that we are beginning to look to the future a bit, as the vaccinations roll out and the economies are opening up.  It is nice to be able to look at what is on the near horizon and think of ways to harness these trends for our customers.
–Christy Winter, Q.O.A.I.S., Sales Manager and Trend Spotter