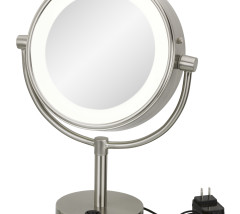 Perfect Bridesmaid or Wedding Gift
Springtime is here, which means a lot of happy people are looking for the perfect bridesmaid or wedding gift.   The sun is shining, birds are chirping, and a lot of weddings will finally be happening after being postponed during COVID.  Hitched Wedding Trend Predictions  How wonderful for all of these couples and families to be able to celebrate their big days!  This is especially true after all of the isolation and uncertainty of the past year in quarantine.
Gift for a Bridesmaid
My daughter will be a bridesmaid in her friend's wedding in July.  This got me thinking about the tradition of bridesmaids' gifts.  What better way to say thank you to your bridesmaids than with one of our magnified makeup mirrors?   What woman wouldn't want a beautiful, stylish, and high-quality accessory that also makes makeup application so much easier?   We all need a little help sometimes, to see what we're missing with the naked eye.  A magnifying makeup mirror is the perfect bridesmaid gift and there's no better time to help your very best friends, your bridesmaids,  so they can look their best…. especially on your big day!
We have many models to choose from, but my choice would be a freestanding magnified mirror for a bridesmaid gift.  These don't require wall-mounting or wiring, and can be conveniently placed on a table or vanity.
A great, classic choice would be our Neomodern LED Lighted Freestanding Mirror.   We have two finishes in stock, Chrome or Italian Bronze, and a choice of warm white light or cool white light.   The 5x magnification may not sound like a lot, but it really is a true 5x, which is plenty for most people.  We're happy to share our thoughts on what is important and How To Pick A Mirror That Will Be Perfect   Check out the Kimball & Young  tab here on our Aptations.com website for more details on this mirror, as well as other LED lighted models.
What's Good for the Bridesmaid is Great for the Bride
Don't forget that magnifying makeup mirrors makes a perfect wedding gift for the bride!  Help your favorite bride both look her best for her big day, and set up her home with a beautiful mirror to use after the wedding.
Don't Forget Graduates!
Magnifying makeup mirrors also make a great graduation gift too!
And don't forget that guys can also use these for grooming.   Our Minimalist Rectangular Freestanding mirror has clean modern lines that would suit a more masculine décor. It's a great choice for anyone.
Enjoy the warm weather and any weddings, graduations or other celebrations in your life this year!
–Laura Allen, Mother of the Bridesmaid and the Graduate!