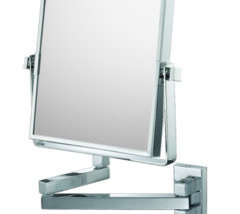 Getting the Best Magnification Mirror for You
"Mr. DeMille, I'm ready for my close-up" was the line famously delivered by Gloria Swanson.  She was playing the part of aging actress Norma Desmond, in the 1950 classic Sunset Boulevard.
The question is…..are you ready for your close-up?  What is the best magnification mirror for you?? 
Having a magnifying makeup mirror with the proper amount of magnification can go a long way to helping you feel more confident for close-ups….or whatever your day might bring.  That said, there is a lot of confusion about the level of magnification that is needed or that will be best for you.  Let me clear up some of that confusion.
There is a lot of science and math involved in determining the exact level of magnification of a mirror.  If you're a mirror geek, like we are, you can check it out at https://sciencing.com/measure-magnification-mirror-7634785.html  If you just want to make sure that your eyebrows are the perfect shape and that there are no weird lumps or bumps in your skin, this is what you need to know.
1.  Don't believe everything that you read.
Just because the packaging on the mirror or the text on the product description online ways that a mirror is a certain magnification doesn't mean that it is a true number.  There is no regulation on what a mirror supplier can say the magnification level is on a mirror so many times that listed magnification is a much bigger number than what is true.
2.  The higher the magnification of the mirror, the closer you have to be to be in focus.
We're all a bit different – YAY!! – but in general the following are pretty good guidelines….
***If the mirror is magnified 3X, you will be in focus about 12" away from it
***A mirror with a 5X magnification will force you to be 5 – 8" away to be in focus
***If the mirror has a 7X magnification, you will be able to see yourself clearly when you are about 3" away from the lens.
***And if the mirror is a true 10X, and not just advertised as a 10X, you will have to be right on top of the lens. This magnification is best for people with really severe vision problems.
3.  Bending square mirrors can create distortion.
It's pretty easy to bend square glass to a magnification level of 3X without creating distortion.  However, going to a higher level of magnification on a square piece of mirrored glass can create distortion.  We want to reflect you at your best, so we don't offer square or rectangular magnifying mirrors at higher than 3X magnification.  If you want higher magnification, then you should check out our extensive collection of round magnifying makeup mirrors.
To review…
….and summarize, the magnification that you use will require you to be a specific distance from the mirror to be in focus.  Think about your grooming rituals.  Can you do what you do to groom when you are only 3" away from the mirror?  If so, then we encourage you to get the most magnification you want.  Just be sure that what you're getting is true magnification and not just something that the supplier printed on a package or a website.
For more guidance on what to consider when buying a magnifying makeup mirror, check out our guide How To Pick A Mirror That Will Be Perfect
–Christy Winter, Q.O.A.I.S. (Queen Of All I See) and Chief Mirror Geek at Aptations.