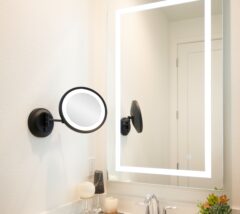 My Favorite Mirror – Ask the Experts
We asked our controller, Laura, to tell us about her favorite mirror.
My favorite Aptations mirror is…
….our Single-Sided LED Round Wall Mirror – model 944  It is one of the lighted, hardwired mirrors in our Kimball & Young collection.  This is a 5X magnified mirror, which is such a great help during makeup application.   5X may not sound like a lot of magnification, but it's a true 5X strength which is quite powerful, much more so than some drugstore mirrors you might find which claim higher magnification.   For me, 5X is plenty.
Classic Styling
You can't go wrong with the classic, simple style of this mirror.  It's wall-mounted, so it doesn't take up any space on the counter.  Its slim design allows it to tuck away easily.   The lens can be positioned at any angle, which makes it really comfortable and convenient to use.  We even have this little beauty in our restroom at the office, so there's another endorsement.
Switchable LED Lighting
The LED lighting is bright enough to allow me to see what I want to, but not so bright that it's distracting.  The feature I like best is that we have just added new technology which allows the LED lights to be switched between warm white light (3500 Kelvin) and cool white light (5500 Kelvin). That way I don't need to choose between the two!  The warm light is similar to the incandescent light bulbs we used to have in our homes.  The cool light is a crisper, whiter light which is closer to outdoor light.   Personally, I prefer the warmer light, but I love having the option to finish my makeup and then switch over and see how I'll look outside.
Best Seller
I have chrome fixtures in my bathroom, so I went with the chrome finish, but we also offer this model in polished nickel, brushed nickel, and we just got matte black in stock.  This is one of our best-selling mirrors and I have to agree with these customers, because I love it too!
–Laura Allen, Aptations Controller, Classic mirror fan, all around wonderful person.