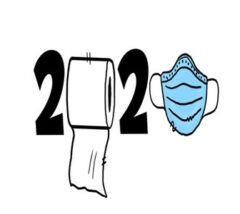 2021 – Whew! We Made It! The Lessons (Re)Learned From 2020
When the history is written, 2020 will give us some good things and a lot more bad things but there are definitely lessons learned from 2020.  Taking a page from the great David Letterman, I want to share my list of the Top 10 Lessons Learned From 2020.
10.  Panic is real!
Accept it….deal with it….and then move thru it.
9.  We've done this before.
Certainly we've never done it quite like this, but…we've gone thru challenges that are enough like this that we can plan how to get thru this one.
8.  Pay attention!
….to what your people are telling you, your inventory flow, your cash flow, and your profit levels. For example, while we have some really unique vanity mirrors, we didn't have a selection of basic, opening price, vanity mirrors.  Look for our new Pure and Classic mirrors coming in 2021.
7.  A bit of quiet time gives space for creativity and innovation

.  
For us it was experimenting with social media and finding new ways to talk to our customers and designers. Check us out on Instagram and "like" our Aptations FaceBook page.
6.  If you don't take care of yourself, you can't take care of your business
…..your employees….your customers…..your suppliers.
5.  Give value
A great product, at a reasonable price, with a strong warranty, delivered consistently and accurately.  That's value!  Aptations has been doing this for years.  It made the difference, for us, between surviving and not in 2020.
4.  Working with great trading partners
….. both those you buy from and those you sell to – makes all the difference between surviving and thriving.  We watched as wonderful, long-term partners weren't able to continue….or chose not to.  I expect that, as it happened in 2009, some iconic businesses will survive the crisis but not the recovery.  And there will be the cheeky new start-ups who join us.
3.  The right employees are your company's greatest asset.
Really!  No platitudes!!  You can go thru the good times with any group of fools.  You need the best to get thru what we just went thru.  At Aptations, we have a really terrific team, Check out some of your favorite Mirror Gurus at Aptations Mirror Gurus
2.  We're almost thru this quicksand like mess.
And we, at Aptations, are ready to run as soon as we get the chance.  New catalogs, showing off both old and new products will be coming in early April and some interesting marketing initiatives are in the planning stages.
And the biggest lesson of all…..
1.  When I get the chance, I'm going to hug everybody…..for a really long time!  I'm gonna make it weird!!
Be safe and keep learning!
–Christy Winter, Q.O.A.I.S. — Life-long learner and semi-professional hugger.