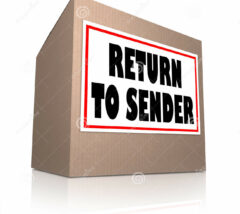 What If Your Purchase of the Perfect Mirror Turns Out to Be . . . . Not Quite Perfect?
Don't worry—we're here to help!
We are happy to accept a return of a mirror within 120 days of the ship date because we know that having a good return policy gives you confidence in us.  (The Importance of a Good Return Policy)  This allows time for you to receive the mirror, inspect it thoroughly, and make sure it's going to work in the intended space. 
There are, of course, some stipulations.  In order for a mirror to be returnable, it must be resalable.  This means:
It must not have been installed
All parts must be included with return
Internal packaging materials must be intact and in good condition
Product display box must be in original condition, with no stickers, tears or defects
Product display box can't be labeled for shipment; it must be packed in another shipping box
These stipulations provide the best assurance that you will return the mirror in resalable condition.
Credit is issued to our customer's account once we receive a returned mirror in resalable condition.  Credits may be applied to any current balance or future orders and expire one year from date of issue.  The credit is the amount of the cost of the mirror, less our 35% restocking fee.
If you are an end user, please understand that we can't issue credit directly to you.  Credit or refund will be issued to you by the company you purchased your mirror from.  We will issue credit to them (our customer), and they will issue credit or refund to you (their customer) based on their policy.
Why Do We Charge 35% Restocking?
It costs us money when you return a mirror.  Each return must be opened and thoroughly inspected to make sure all parts and pieces are included and in original resalable condition.  The return, if resalable, is added back into inventory and recorded by our warehouse.  Our main office pulls the warehouse records of returns and issues credit for resalable items.  Several sets of hands touch this process, resulting in time and expense.  Our restocking fee is designed to cover this cost.
Do Your Best to Avoid Having to Return an Item
We publish thorough specs for all our mirrors.  If you need any information you can't find, we're happy to assist.  Give us a call or email your questions to Sales@Aptations.com.  If you're not sure a particular mirror is right for you, we can help with options too.  We'll do all we can to help you make the right choice, with confidence, so you don't have to return your mirror.
What About Warranty Issues?
We offer a full 3-year warranty on all our mirrors.  The quality of our product is very important to us, and we hold our factories to a high quality standard.  However, as with all man-made products, defects or failures can and do occur.  We do not carry spare parts or offer repair services, but within the warranty period, we will replace the entire unit at no charge.  For full details, check out our Product Warranty Information
To verify that your mirror is covered by warranty, we need to track the original order in our system.  This ensures that we are replacing the correct item in the correct finish, and that the original purchase falls within the warranty period.  If you happen to have a mirror that we no longer carry or if there is a long backorder for replacement, we are always ready to offer a suitable option as replacement.
How to Contact Us for Return or Warranty
The best way to reach us, if you are dealing with a return or warranty issue, is by sending an email to Returns@Aptations.com.  Please include the following three things:
Original PO number, or documentation of purchase
Item number, including finish
Reason for return or warranty claim
Pictures or videos are always helpful as well.  We do our best to respond to email requests within one week.  If you don't have all of the above information, feel free to contact us anyway, and we will do our best to work with you.
What If My Mirror Is Broken on Arrival?
A lot of thought and engineering has gone into the packaging of our mirrors, but even so, on rare occasions, a mirror is broken or damaged in shipment.  If that happens to you, please report it to us immediately.  Time is of the essence.  We will replace a mirror damaged in shipment at no charge—but only if it is reported to us within 30 days.
Why Only 30 Days?
Beyond the 30-day time frame, it is doubtful that we can recover any loss from the shipper.  Furthermore, if an item sits in a warehouse, at a jobsite, or in a garage for an extended period of time, damage may occur for which we are not responsible.  We encourage everyone to inspect your shipment thoroughly upon arrival, and we feel 30 days allows ample time for that to happen.
I Love My Mirror, but It's Beyond the Warranty Period
So your favorite mirror that you've been using every day for the past 10 years is no longer lighting.  I guess it's time to go mirror shopping again . . . WAIT!  Give us a call, or email us at Returns@Aptations.com.  We love people who love our mirrors, and we're happy to help you with current options for replacement.  We may even be able to offer you a discount!
The Bottom Line . . .
We work hard to offer a product we can be proud of.  If your purchase of the perfect mirror turns out to be less than perfect, we'll do our very best to resolve any issue.  Happy customers make our day.  Here's a quote from one:
"It is very refreshing to work with a company that stands behind their products.  We will be coming back to you for future business, thank you!" –September 29, 2020