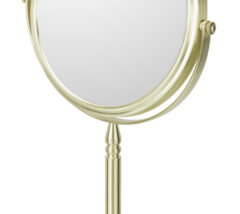 Perfect Gift for the Holidays
I think I'm like most people – I both love the chance to pick out the perfect gift for the holidays and I panic when I'm faced with buying a gift for someone who is hard to shop for.  I LOVE the times when someone helps me out…..and I REALLY LOVE the times someone helps out my beloved husband and children.  Let me return the favor and help you out with some ideas…..
For the One Who Deserves Some Pampering
Most women don't take enough time to take care of themselves.  I try really hard to not generalize but, in this case, I think I'm on pretty solid ground.  If the woman in your life would love the chance to just focus on herself, then a gift of a magnifying makeup mirror is ideal for her.  Having a magnifying makeup mirror allows her to spend some time primping and preening and generally making herself feel better.  A woman who feels like she looks good has the confidence to conquer the world….or at least her little part of the world.
Get a magnifying makeup mirror at Magnifying Makeup Mirrors
For the One Who Has Beautiful Skin
Beautiful skin is a perfect canvas for a beautiful smile….a cheerful outlook…..and showing up with the most confidence.  Sadly, the act of living – with pollution, and sun damage, and stress, and so many other factors – can really harm skin.  The first step of taking care of skin is to be able to see it.  The newest technology brings bright, LED lighting to magnifying makeup mirrors and it also allows for different color light temperature, depending on what the day holds.  A gift of an LED lighted magnifying makeup mirror is a priceless tool to reflect her at her very best and makes a perfect gift for the holidays.
Get an LED lighted magnifying makeup mirror at Magnifying Mirrors with Lights
For the Makeup Aficionado
If you are looking for a gift for someone who's into makeup, it can be tough to get them a gift because makeup is so personal.  However, a great tool, like a magnifying makeup mirror, is a great gift regardless of the color of eye shadow that your loved one favors.  And a good magnifying makeup mirror can be the perfect accessory for both the makeup aficionado and the perfect accessory for their home.
Get the perfect makeup accessory at Ready for Your Close Up?
For the One Who Has Everything
We all know someone like this.  They have a perfect home filled with delightful art and memorabilia, their kitchen and wine cooler would make a professional chef green with envy, they always look perfect – from the gym to the boardroom and everywhere in between.  Buying a gift for the one who has everything can be tough, and a magnifying makeup mirror can be the perfect gift.  Do they already have a makeup mirror at home?  They can probably enjoy one that fits perfectly in a desk or gym locker.  How about a mirror that is wall-mounted that will keep their perfect bathroom vanity clutter free?  Regardless of how tough someone is to buy a gift for, there is a magnifying makeup mirror that will be the perfect gift for them.
Get the perfect gift at FineMirror.com
And if you want to see the mirror before buying it, visit one of our many showroom partners.  Aptations Dealer Locator  They'll be happy to help you!
–Christy Winter, Q.O.A.I.S. (Queen of All I See) ….gives mirrors, chocolate and socks as gifts, depending on the holiday.