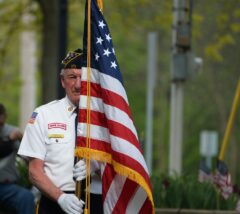 Thank You To Military Families
November 11, 2020 is Veteran's Day and November is Military Family Month and at Aptations, we want to say thank you to military families.  The National Child Traumatic Stress Network tells us….  "November was first declared as Military Family Month in 1996.  They contend with separation from their families and make adjustments to new living situations and communities.  Military Families embody strength, resilience, and courage."  National Child Traumatic Stress Network
An American Story
My parents were both in the US Air Force.  My Dad retired as a Lt. Colonel and my Mom resigned her commission as a Captain when she married my father and started a family.  While neither were in the military when I was growing up, the impact of the military was a constant in our lives.  When we would prepare for a family vacation, my father would forget that we were children and not soldiers and would bark orders at us as if we were invading somewhere…..not just visiting family.  My Mom brought her skills as a leader and an Air Force officer to everything she did and was my role model to help me become the leader and owner of my own company.
My older brother – at our current ages, he prefers to be called my "Big Brother" – retired from the Air Force as a Lt Colonel, my two younger brothers both enlisted in the Army and my son is a Captain in the Marine Corps.  I have spent my life surrounded by military.
With all of that, I am very fortunate that I never had to deal with the impact of long absences or the ultimate sacrifice, the death of a loved one.  For the people who have dealt with that, my heart breaks for your loss.
A Blinding Flash of Reality
I had the good fortune to meet and share a meal with a beautiful young woman whose husband had deployed with my son.  She is the Mom to three children, under the age of 10 years old.  We spent some time talking about how her children coped with their father being deployed for 6 months.  I had coped by using denial – I kept calling it summer sleep-away camp.  She not only had to cope with her husband being gone but she also had to help her children cope with their father being gone.  And then, surprisingly, they all had to cope with him returning home – the kids were older, the family had settled into a routine and, while they were thrilled to have Dad back, he needed to be folded back into their family.
The conversation gave me an appreciation for the challenges, both big and small, that these families face.
My Deep Appreciation
The appreciation that I feel for the whole range of sacrifices that military families face is bone deep.  It's actually hard to put something that is so visceral into words.  I wish there was some way that I could thank all military families for their sacrifices and service that would match what they have given.  The best I can do is offer a discount on our great mirrors in hopes of making their lives a little easier.  If you are part of a military family and are in need of a bathroom mirror, please use discount code BlueStar at FineMirror.com to receive an automatic 20% discount off your purchase.
This is a very small way that we, at Aptations, can say THANK YOU for all you have done and for all you have given.
–Christy Winter, Q.O.A.I.S. (Queen of All I See)  Daughter of Roy and Mary Jane, sister of Roy, Brad and Alan and mother to Bob – surrounded by her remarkable military family.