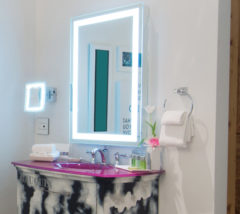 Mirrors As Room Jewelry
I've always thought of mirrors as room jewelry.  And like the most perfect jewelry, it can make a definite statement about the overall look, in this case, of the room.
Back in 2009, at the depth of the last great recession, I was invited to a Girl's Day at the San Francisco Nordstrom's with a bunch of really good friends.  I was suffering from "recession fatigue" and wanted to get out with friends and enjoy some shopping.  I was just getting out – I was not going to spend any money!  Well….that plan didn't work so well and I ended up falling in love with and buying a couple of great outfits that were WAY beyond the current clothing budget.  Then the personal shopper asked, "would you like to take a look at some scarves and belts to go with that?"  In for a penny, or in my case a stressed credit card…..I reasoned.  I agreed and piled on even more expensive accessories.
Even though I knew I would be calling, first my credit card company, and then my husband, to explain these extravagant purchases including scarf, belt and shoes, I still bought them because they were absolutely perfect with those outfits.  Frankly, it would have been a bad idea to try to accessorize these great outfits – expensive clothing investments – with the things I already had.  It wouldn't have done justice to any of the pieces. 
The Perfect Bathroom
I will tell you that I simply do not understand people who spend months of their lives and tens of thousands of dollars to get their dream bathroom who then bring in an inexpensive and ordinary mirror.  There are so many wonderful mirror choices and sometimes the difference between an ordinary look and a fabulous look can happen if you use mirrors as room jewelry and pay special attention to the accessories.
Choice of Finish
Bathroom fixtures come in such a wonderful array of options and the choices are expanding.  Do you want a finish that will match the faucets and hardware that you have chosen? Sometimes the best choice is to find something that is complimentary?  Maybe the perfect mirror is in a finish that brings a pop of color??  Be sure to consider this as you design your perfect bathroom.  How To Pick A Mirror That Will Be Perfect
Choice of Light Color
Mirrors are one of the few things in your perfect bathroom that can bring both color and light to the design.  Deciding which light color to use is both a decision about functionality as well as aesthetics.  Again, be sure to look at the variety of light color options you can choose from when designing your perfect bathroom.  How To Pick A Mirror That Will Be Perfect
Sparkling and Shimmering Lights….
….are a hallmark of the winter holiday season.  Mirrors, especially magnifying makeup mirrors, are a delightful gift for the person who has everything.  Just like receiving the perfect scarf or necklace, a gift of room jewelry is always welcome!  Want to get that perfect gift right now?  Where to Buy the Perfect Gift Mirror
My Nordstrom's Look….
As it turns out, the outfits and accessories that I purchased, mostly in defiance of circumstances that I was frustrated with, are still in my closet.  They are the clothes that I wear when I need to feel powerful and successful….when I'm facing a challenge and I need a confidence boost.  I know that a carefully chosen mirror can do the same for you.  Check out the room jewelry at A Perfect Gift
–Christy Winter, Q.O.A.I.S. (Queen of All I See) at Aptations.  Christy learned everything she knows about accessorizing from her daughter, Allison, who continues to act as her personal stylist.