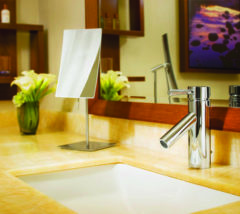 Mirror With Value for Your $$
The reviewer said…."it was a bit pricey, but well worth it….."  I love it when customers find value in our mirrors!  It means that we have struck a balance between the price that they paid and the quality of the mirror that we delivered to them.
It is tricky to talk about value because it is an intangible quality to deliver.  The recent pandemic has made us all aware that seemingly trivial items can have great value – toilet paper in March, for example.  I have been giving a lot of thought to defining how I determine value in a mirror, and even in "normal" times, value is an elusive and intangible thing, often only understood by the person looking for value.  Like beauty, value…. "is in the eye of the beholder." (Margaret Wolfe Hungerford) 
What Determines Value in a Mirror?
The short answer is easy…..we each do.  We know if the price we paid for the mirror, including the cost to have it delivered and installed, is a price we are willing to pay.  But that is only one part of the "equation."  We also know if the mirror performs the way we want it to –
the light is bright enough and the correct color temperature,
it gives us distortion-free magnification if it's a magnifying mirror,
the finish matches or complements the other fixtures and hardware in our bathroom,
the arms extend and the mirror pivots so that all members of our household can use it.
The combination of price and performance determine the value of the mirror…..but that's not all.
What About the Value That Comes With the Brand?
Brand loyalty is a powerful thing!  My Dad was a Chevy man.  I think, in his mind, that defined him at least as much as being a Republican, Methodist farmer.  He was also a John-Deere man.  Like so many of us who return to the same brands over and over, he trusted them to deliver what he expected.
A company or brand can claim they offer value as long as……
we can count on the products to consistently do what is promised
the company offers a warranty to prove they stand behind the products
the technology may change but the basic reliability of the product doesn't
Like my Dad's Chevys, Aptations has several different collections to help you make the best choice.  You can see the differences at Aptations Mirror Collections
What Do Others Say About the Products?
Besides adorable videos of kitten, the internet has given us all a powerful tool – the product review.  These are some of my favorite reviews of Aptations' mirrors…..
FineMirror.com…."Spectacular Mirrors!"  FineMirror.com Sol
Qualitybath.com…."Beautiful and functional for our needs"  QualityBath.com NeoModern Wall Mounted Magnifying Makeup Mirror
LampsPlus.com….."Convenient, but out of the way"  LampsPlus.com Square Non-Lighted Magnifying Mirror
Amazon.com…."This produce is extremely well made and highly recommended"  Amazon.com NeoModern Freestanding Magnifying Mirror
Not all reviews are glowing.  When a reviewer tells us something is not working or meeting their expectations, we do what we can to fix those problems.  We appreciate all help in making our products better.
So Value In a Mirror Is….
A mirror that meets the needs of the buyer, at a price that is reasonable, delivered by a company that is consistent and reliable.  We spend every day trying to bring value to you.
–Christy Winter, Q.O.A.I.S. (Queen of All I See) at Aptations.  Christy gets to dabble in all aspects of  mirrors.  She has the best job in the world!